Have you evaluated your CHARACTER COUNTS! program yet? 
Our self assessment can provide you with a report that shows how well CHARACTER COUNTS! is being incorporated into your school.  Based upon the results, you will know the areas where your school excels and where help take your character education  new initiatives can help you reach to the next level.
The survey includes questions like:
Is CHARACTER COUNTS! reflected in the parent/student handbook?
How are students recognized for expected behaviors?
How is CHARACTER COUNTS! communicated to students, staff, parents and the community?
Free school self assessments until February 28!
The online self assessment is free to all Iowa elementary and middle schools that complete the assessment before February 28, 2017.
PLUS – if you're one of the first 10 buildings to complete the assessment, you'll receive a CHARACTER COUNTS! merchandise bundle!
Your results
You'll receive a report with the results of your self assessment to help you identify areas of strength and where there are potential opportunities for growth.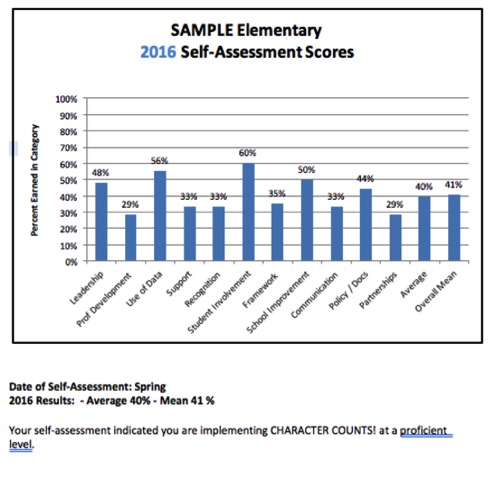 Data is organized by the following categories:
Leadership
Professional Development
Use of Data
Resource Support
Student and Staff Recognition
Student Involvement
CC! Framework
School Improvement and Action Planning
Communication
Document and Policy Integration
School, Family, Community Partnerships
The combined scores in each area give an overall ranking of implementation.  A school's overall ranking is described as emerging, proficient, or exemplary.
To learn  more about our self assessment, please contact Georgia Sheriff at 515-271-1910 or georgia.sheriff@drake.edu.
We're here to help
The Robert D. and Billie Ray Center offers resources, training and technical assistance to schools related to implementing and combining CHARACTER COUNTS! with other initiatives such as PBIS.
The Ray Center provides CHARACTER COUNTS! trainings, customized professional development sessions and resources to support your team as you focus on growing your character development programs.
Visit us at www.drake.edu/raycenter to find out about upcoming trainings or to connect with our staff. Our role is to support you in the good work you are doing and we look forward to connecting with you!
About The Ray Center
Our mission is to improve civility and develop ethical leaders throughout the world.
Through public awareness and programming grounded in research, The Ray Center features two programs, CHARACTER COUNTS! and Excellence with Integrity.

Our initiatives benefit people of all ages and are easily adaptable for families, schools, workplaces, athletic teams and youth organizations.