Young professional organization gets recognized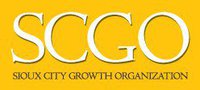 You are you a young professional? Do you know anyone who participates in young professional groups? Sioux City Growth Organization is a leading example as an organization of character. Think of an organization you enjoy participating in and nominate them for an Iowa Character Award by May 11!
The Sioux City Growth Organization (SCGO) was formed in 2002 to encourage young professionals to become active members of the Siouxland community. SCGO encourages progressive and innovative ideas, and brings together voices from all generations to create a positive impact on the future of the Siouxland community.
Now with more than 100 members, SCGO's goal is to attract and retain young professionals in the area, by providing insight on what Sioux City has to offer and how they can get involved in shaping its future.
SCGO offers committee and volunteer opportunities, networking and after hours educational events, community-based beautification and work to develop projects such as Sculpt Siouxland and Freeze Fest. Additionally, many SCGO members are involved with local government, volunteer work and board positions. SCGO encourages its members to live by the Six Pillars of Character, actively engaging themselves in every aspect of the community.