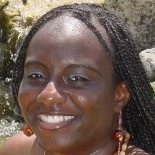 Paula Bell received an Iowa Character Award in 2010 as a Citizen of Character. Read on as she elaborates on how much it meant to her to be honored for who she is as a person. And don't forget, nominations are due May 11!
In 2010 I was honored in what I would consider the greatest honor anyone could receive, a 2010 Citizen of Character Award. You just can't get any better than that! I was honored to be nominated in 2009, but to actually win in 2010 was awesome. I remember being sick and in the bed at home when I got this call from my nominator Valerie Washington. I thought it was strange that she called me during the day as we both work at the same place and a large chunk of our day is in meetings. I thought immediately something was wrong.  She didn't know I was home sick from work, but I remember her saying, "Well I have some news that I think will cheer you up.  You won the 2010 Citizen of Character Award." I was so excited but couldn't even celebrate like I wanted to do because I had the flu. I sent emails and text messages to friends, family and my manager, who at the time was located in New York. Valerie sent out emails to senior leaders in our organization and a big deal was made of it. It wasn't the fact that I won an award that made me happy but it was more the type of award I won. Your character is the very fabric of who you are.  People know you by your character.  If you look up the word character in the dictionary, one definition is: The mental and moral qualities distinctive to an individual.  That's your DNA right there.  That's who you are. To have an award where you are honored for who you are based on the fruits that you exemplify every day is so powerful. It's more than just being awarded for a talent that you have like acting or singing, but you are being honored for WHO you are. Doesn't that just give you chills? This is an award to honor YOU.  There is no greater award than that.
Once I was told that I won a lot of things started happening. Stories were written about me at work and shared with the entire organization, FOX News came out to my home and did an interview with me and provided me with that interview at the Iowa Character Awards banquet. Character Counts In Iowa definitely rolls out the red carpet to honor you and make you feel special.  You are allowed to have your close friends and family with you to receive the reward and you are presented the award from a little panel of individuals including Governor Ray. You can't get any better than that.
Now that I've been a part of the selection committee I have realized all the wonderful people out there and all the wonderful things people are doing and to be among those individuals and then be the one honored I'm speechless. It's an honor to receive the award and even more fun to nominate someone for the award. Please take time to allow someone else to have the feeling I had. It's worth it and it will make the nominee feel special to know that someone admires them for WHO they are.
Log in with Facebook to comment
Being honored for simply being yourself