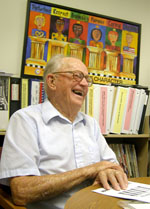 In 2008, (then) 94-year-old Paul Hassman received an Iowa Character Award. Through his contributions, many people have the utmost respect for Paul.
Who has served your community for over 50 years and still continues to do so? Nominate them for an Iowa Character Award!
At 97, Paul Hassman is the oldest and wisest member of the CHARACTER COUNTS! Task Force in New Hampton, Iowa. When he first saw the Six Pillar sign going up in front of the school he went right over, said thank you for putting them up and offered to help in any way that he could.
Paul has been participating in the Opportunity Village Benefit Walk since 1989. He has raised tens of thousands of dollars for this cause. Additionally, he has contributed time and resources to Pleasant Manor low-rent housing, Feed the Children and the Rotarian's shoe box project.
Many people in the New Hampton community have a deep respect for Paul. He is positive, goes out of his way to help someone and cares about the future of his community. He is known as the man that is accountable to himself and to others. He likes to know what is going on in his community and he always gives generously to projects that he believes will benefit others, particularly the youth and the disabled. There is hardly an improvement project in New Hampton that Paul hasn't contributed to or sanctioned.
Learn more about Paul on our YouTube site!
Log in with Facebook to comment
Character doesn't end when you retire