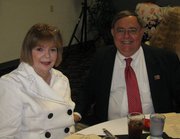 After 35 years in education, Jim Mayse took early retirement from the West Des Moines Community School District. He was contacted by Drake University to see if he would be interested in becoming a Student Teacher Supervisor and took their offer. To this day he enjoys being able to stay involved with students, teachers, administrators, student teachers and schools in general. Read how he felt after receiving an Iowa Character Award (and don't forget, nominations are due May 11)!
I received an Iowa Character Award from Character Counts In Iowa in 2001.  I have been asked to reflect upon my experience from receiving that award.  Honestly, I think two words express my opinion — surprised and honored.
After working with Character Counts In Iowa, as the first school in the state of Iowa to partner with them, I fully understood there were many people from Clegg Park Elementary School who deserved such an award.  I was blessed to work with staff, students, parents and community members who learned the Six Pillars of Character and worked to consistently apply them to their lives.  Therefore, I was surprised to be the recipient of such an award.  I have always felt very honored as such a recipient, being able to share with others how fully I support CHARACTER COUNTS! and the work of all of the staff at Character Counts In Iowa.  They are dedicated, great advocates for character throughout Iowa. Lastly, I would have to add the word "awed," when I consider all of the outstanding individuals who have received this award over the years.  To be listed in their company is absolutely awesome!
Log in with Facebook to comment
Surprised and honored – a receipient's thoughts on receiving an Iowa Character Award