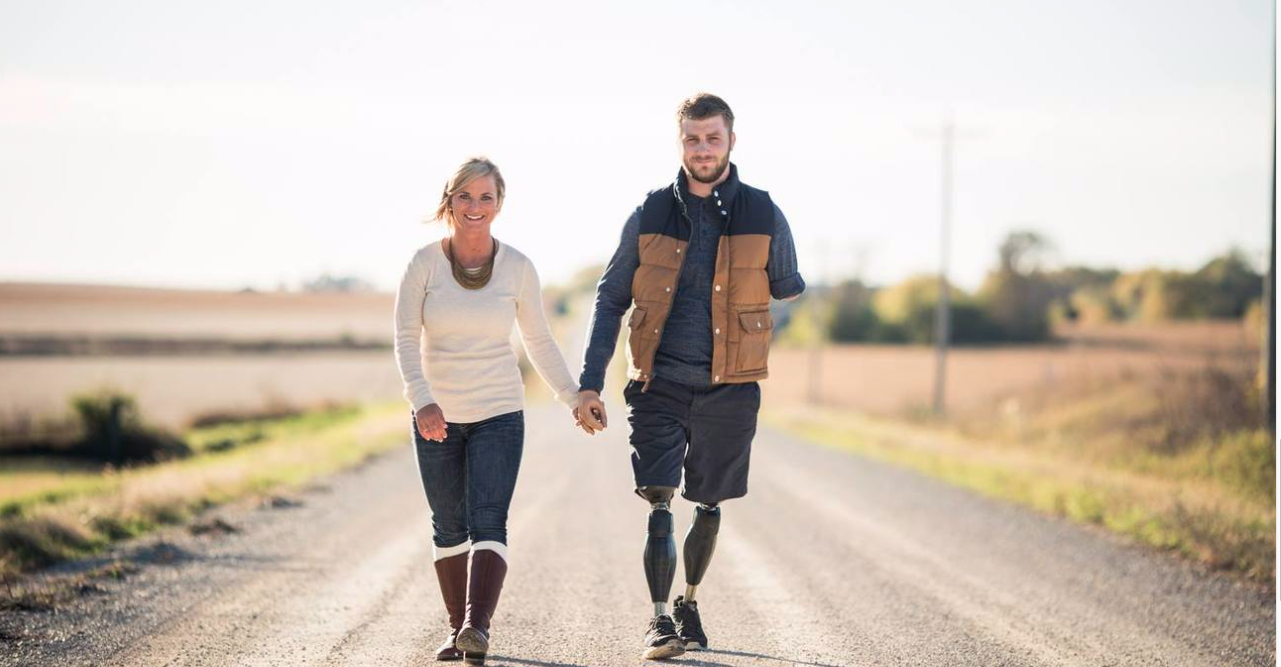 The Robert D. and Billie Ray Center at Drake University has named Iowans Danielle and Taylor Morris as the 2019 Robert D. Ray Pillar of Character Award recipients.
Danielle and Taylor accepted the award on April 12, 2019, at The Ray Center's All-Star Evening in West Des Moines. An All-Star Evening is presented by Hy-Vee and benefits The Ray Center's programs, including CHARACTER COUNTS!
"Taylor and Danielle's story is one of resilience and triumph," said Drake University President Marty Martin. "It is a reminder that with determination and perseverance we can not only overcome the most difficult obstacles, but use them to inspire and improve the lives of those around us. Taylor and Danielle are an example for us all, and I can't think of two people more deserving of this award."
This award is The Ray Center's highest honor and is presented each spring to an individual who demonstrates good character as a role model and reflects former Gov. Robert D. Ray's lifelong commitment to civility and character development. Past recipients include Norman Borlaug, Hayden Fry, Dan Gable, Fred Hoiberg, Shawn Johnson, Ashton Kutcher, and Dr. Peggy Whitson.
Taylor Morris is a combat wounded veteran, who sustained profound injuries while serving in Afghanistan in 2012. Working as an Explosive Ordnance Disposal (EOD) Technician, an IED detonated as he was clearing up to a building to provide cover for his team from enemy fire resulting in the loss of parts of all four limbs. Taylor then spent two years of rehabilitation at Walter Reed Medical Center where he relentlessly pursued his recovery, learning to use prosthetic arms and legs to achieve full independence.
In a story filled with so much sacrifice, courage, and compassion, it would be remiss to exclude part of what caught the world's attention: the love story shared between Taylor and his high school sweetheart, Danielle. Upon hearing of his injuries, Danielle immediately left everything behind of her life in Iowa and moved to Maryland to be by Taylor's side through his long and arduous recovery.  Together they took on each and every obstacle and challenge with pure grit and determination to regain independence.
After overcoming insurmountable odds and a lifetime's worth of challenges, Taylor and Danielle left the hospital after two years, returning to their hometown of Cedar Falls.  Wanting to give back for all the love and support they received from the community throughout the recovery process, every summer Danielle and Taylor put on a Glow Stick 5k to recognize and honor inspiring pillars of the community. To date they have raised over $55,000! In October, 2015 Taylor and Danielle were married surrounded by their friends and family.  Taylor earned his bachelors degree from UNI and has gone on to work as a project manager for a local real estate developer. Danielle has been awarded "Rookie of the Year" and "20 under 40" as a Realtor in the Cedar Valley.